Part 5 : Comic strip competition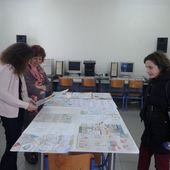 Competition for France - Home Sweet Home Erasmus+
The five works for the comics competition in France have been chosen for Music School of Volos. All 34 students have done excellent job and their works were impressive and unique. The selection ...
http://homesweethome-erasmusplus.over-blog.com/2017/03/competion-for-france.html
The competition for Part 5 : Houses of the Future, consisted in creating a comic strip on an A3 page. This was to be made by two people, written in English and having "My House of the Future" as a topic.
As usual, in each country, it was very difficult to decide which five creations would be selected!
Then, each school presented five comic strips, which meant 25 in total.
The Erasmus+ teachers voted in Faverolles on Sunday April 2nd. They were very concentrarted as the works were of excellent quality!
The First Prize was awarded to two Spanish students for their work. CONGRATULATIONS!
In the second and third place were Greek and French students. Congratulations too!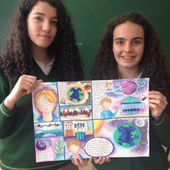 And the winners are... - Home Sweet Home Erasmus+
These are the Spanish students who have won erasmus + contest. Congratulations for your wonderful comic strip. We are so proud because all works were great.
http://homesweethome-erasmusplus.over-blog.com/2017/04/and-the-winners-are.html