30
Jan
Greece "Part1: My House, My Culture" - Film
A short film from the students of Music School of Volos - Greece.
The idea was to make a short film about "My House - My Culture". We decided to follow all the procedures done in professional jobs although we knew this would take a lot of time and effort. The ERASMUS+ team of the school (students and teachers) was involved in 3 teams: Script, Video and Music. The benefit would be to learn how a film is made, what is the necessary equipment and how to use it, what professions are involved and what's the role of each one we see on the titles of a movie and most of all how to cooperate harmoniously and productively in teams.
It was a unique experience!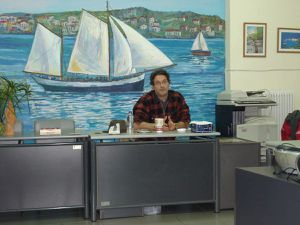 Step 1: The Script
We invited Mr Pelasgos, a famous storyteller of Greece who lives in Volos, to give us hints on how to write a story.
The students wrote their stories, inspired by the theme of Part1: "My House, My Culture". Below you can find the translations in English, done by another team of students. They are written in script format. The decision of the one to be filmed was very difficult and finally Stathis' story was selected.

Step 2: The Storyboard
The storyboard for the movie is the work of Orestis and Maria.
Step 3: The Music
The music for the film is original, composed by two students of our school: Orfeas and Elpida. All the students of the ERASMUS+ team of our school are playing the music and singing the song of Justin Moore "Home Sweet Home".
Step 4: The Film
Days of teaching and preparation, two full days of shooting (a whole weekend from early morning to late evening) and a lot of work in post-production are behind this short film...
... and of course hours of bloopers and behind-the-scenes moments that can't be shown here but there are in our hearts. Thank you ERASMUS+ !