Part 4 : Original House Designing Competition
The competition for Part 4 consisted in the following work :
With a 3-D program like Sketch-up or by hand, the students had to replace a building in their area with another one they had created and designed. So they had to present a picture of the area or the street before and another picture of the area or the street afterwards with their newly designed building.
5 works were selected by each school and were taken to Spain in October 2016. A reward was given to the best one according to the following criteria :
Use of new / original shapes

Use of new / original materials

Inclusion/ integration of the building in a real street, or a real site

A photo BEFORE

A photo AFTER
The teachers chose the best work in A Coruña, in Silvia's workshop, a modern place, designed by Silvia (an architect as well as an art teacher!) . As usual, it was really difficult to decide which one was the best because they were great works!
The 1st prize winner was the work of a Greek student, Christos P. and the 2nd prize was awarded to the work of a Turkish student and also the work of a Greek student. Congratulations to all of them!
The teachers in A Coruña during the Transnational Meeting voting for the best work. Areti from Greece and Burak from Turkey proudly showing the works of their students while Maria José and Silvia were desperate because no Spanish student has won a competition yet ;)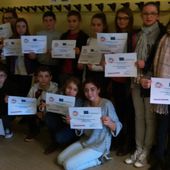 Calmette and Guérin students got their diplomas for the Erasmus+ competition - Home Sweet Home Erasmus+
The thirteen students who had taken part in the Design a New Building Competition received their diplomas on November 15th. The five students whose drawings had been selected for the "big" ...
http://homesweethome-erasmusplus.over-blog.com/preview/3c723d9a557cb55a3dd130780ec2997ce07d05f2